My Stone Bowl

Discovery and Article by Audrey C. Linke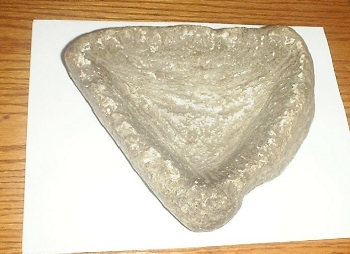 The Pootatuck Indians made their home in Oxford, Connecticut, at least some of them living on property that later became my father's garden.
The setting for this particular community was a fairly flat area at the foot of Bee Mountain, with a small brook nearby. The sun shone on the area until long past midday, making an ideal spot for a campsite. Early dwellers would not have had far to go to find a wide variety of nut trees and berry bushes. Deer and other game were abundant even when we lived on Great Hill Road, which was from the summer of 1929 to the fall of 1956. My brother, a teen-aged hunter, put meat on the table all during the Great Depression.
During spring plowing and planting, Dad always found arrowheads and spearheads. These interesting finds continued as long as Dad had a garden.
In the mid-thirties, my grandmother, my uncle, and my younger cousin, began housekeeping in a house they rented on Bee Mountain. One day, as I was walking up the primitive roadway that led to my relatives' new home, I found a stone bowl. What an awesome discovery -- my very own Indian artifact!
The bowl is roughly hewn of gray stone and forms a triangle-shaped container. Two exterior sides are six-and-a-half inches long and one side in seven inches long. Two interior sides measure five- and- a- half inches and the third side is six inches long. It is about one-and-a-half inches deep, weighs four pounds and can hold a cup of water with ease.
I took the bowl home where it was displayed on my mother's what-not until my father died in 1956. It then went with the what- not to my sister's home. It is now in my home where it will stay for now. I have a few arrowheads and spearheads, as well, but they are what my brother called "starts," of no value to the Indians who made them or to anyone now. My brother kept the huge supply of really fine examples of Native American artistry and industry. Perhaps these priceless treasures will eventually be donated to an area local historical society. My precious stone bowl may end up there, too.