Centralized School Dedicated in Oxford
(Special to the Republican)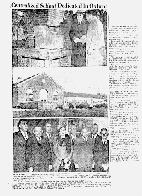 (click for larger image)
Oxford, Dec. 18 --
This town ? its remaining "little red schoolhouses: today and brought its primary school facilities up to date with the dedication of the quarter-million Oxford Centralized School.
Two hundred townspeople joined with town and Board of Education officials at ceremonies at which the cornerstone was laid and ~ combination gymnasium-auditorium as officially opened.
The eight classrooms of the school have been in use for several weeks.
The town was congratulated ~ its enterprise by a member of the state Board of Education, Mrs. Helen L. Gilbert, Norwich, who urged that the townspeople support the state board's plans to improve facilities for training teachers in the state.
The 10-year program of the state board, she said, is designed to provide teachers "who will not fail our future citizens." The state, she added, is not training teachers fast enough for the needs of the next 10 years.
Eldridge E. Seeley, chairman of the School Building Committee, turned the building to the town, represented by First Selectman Fred R. Bice, Jr., who in tern presented the building to the Board of Education, whose chairman, Franklyn R. Sanford, accepted it.
"In order to justify the expense of this school, we must increase the level of education, he said, pledging that the board would raise the level. He pointed out that the new school will make possible the first hot lunch program in the town's history. The program will start Jan. 3.
Mr. Seeley said the school cost $239,712 with and additional ~ for grading work. A state grant will cover $50,000 of the cost. The artesian well for the school was donated by Stephen B. Church Company, he said.
Thomas Schreiber former chairman of the Board of Education said the new school will replace the Quaker Farms School, built in 1912; the Church School, built in 1920, and the Center School, built in 1925. The town a century ago had 15 school districts but the number was steadily reduced by out-migrations and the advent of motor transportation.
Mrs. John E. Smedley, president of the Oxford PTA, expressed thanks to the parents for the school. Rev. E. G. Zelllers pronounced the invocation the Rev. REv. Albert A. Callahan, the benediction. Prin. Richard A. Wilkinson led singing. Hubert E. Stoddard ~ of the building
(( End of article not found ))